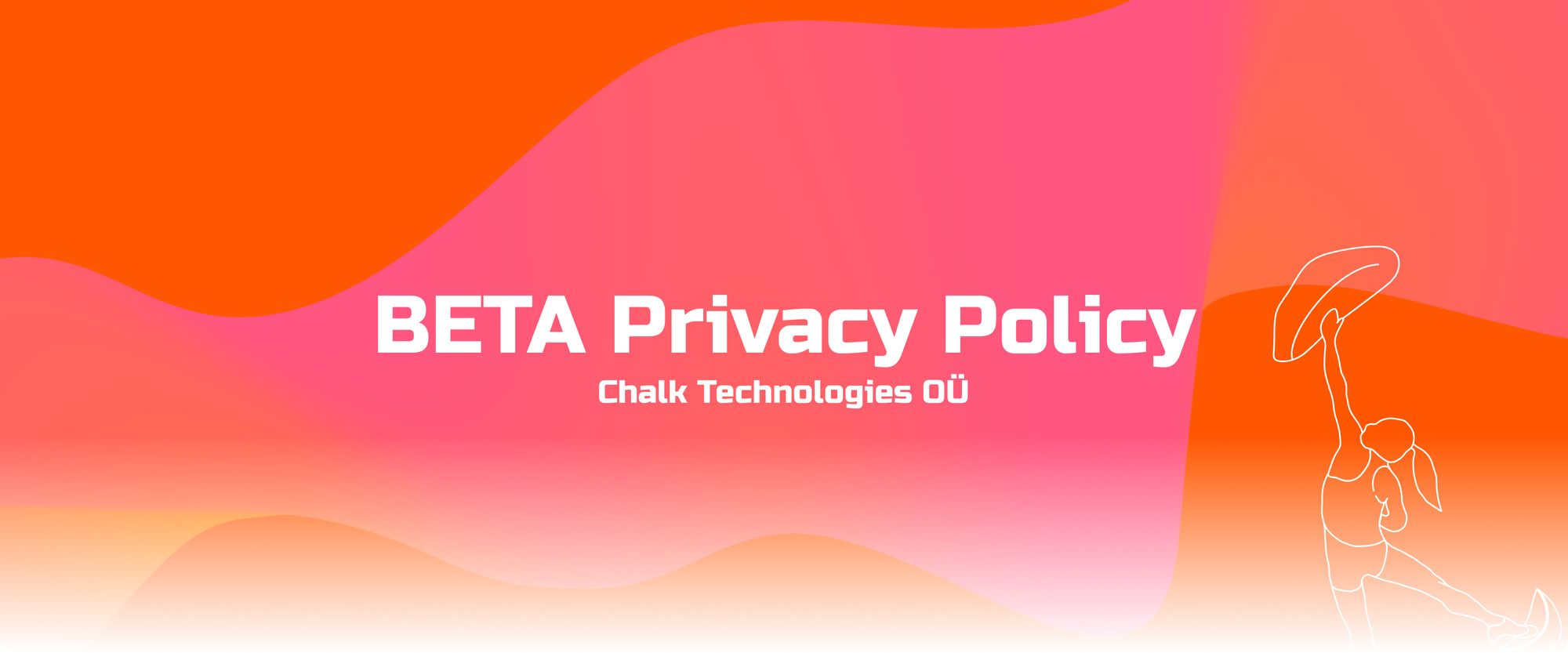 Updated August 2023
This Privacy (or "Terms") govern your use of the software platform created by Chalk Technologies OÜ called BETA (also known as BETA Climbing, BETA Pro, or BETA Plus), except where we expressly state that separate terms (and not these) apply, and provide information about the BETA Service (the "Service"), outlined below. When you create a BETA account or use BETA Plus or BETA Pro, you agree to these Terms.
This represents a Privacy Notice for Chalk Technologies OÜ (the "Service Provider") of the BETA Service (the "Service")
About this Privacy Notice
This Privacy Notice sets forth the handling practices of Chalk Technologies OÜ. (variously, "BETA", "we", "our" or "us") and its affiliates in regard to the collection, use and disclosure of personal data or personal information that you may provide to us through using this website (the "Website"), by using any product or by using any service, including but not limited to the BETA software-as-a-service product ("SaaS"), downloading, accessing and /or using BETA's mobile application named BETA Climbing ("App"), creating an account, interacting with us, opting-in to receive SMS mobile messages, or engaging with any other websites, pages, features, or content we own, operate and/or provide (collectively with the Website, SaaS and App, the "Services").
If you do not accept this Privacy Notice and/or do not meet and/or comply with the provisions set forth herein, then you should not use the Services.
By accepting our Privacy Notice, accessing and using the Services, you consent to our collection, storage, use, and disclosure of your personal data or personal information as described in this Privacy Notice and the Cookie Notice.
Third-Party Websites and Services
In some instances, we may process your personal information in accordance with an agreement with a third party. This may occur, for example, when you sign-in or sign-up for the Services through a third-party or click on a third-party link. In this instance, the terms of the third-party's agreement and privacy notice will govern how your personal information is processed. You should review the terms and notices of any third-party websites prior to clicking on the links. BETA has no control over the privacy practices of websites or applications that we do not own. We are not responsible for the practices employed by any websites and/or services linked to and/or from our Website, including the information and/or content contained therein. Please also remember that when you use a link to go from our Website to another website and/or service, our Privacy Notice does not apply to such third-party websites and/or services. Your browsing and interaction on any third-party website and/or service, including those that have a link on our Website, are subject to such third-party's own rules and policies. In addition, you agree that we are not responsible and do not have control over any third-parties that you authorize to access your personal information. If you are using a third-party website and/or service and you allow them to access your personal information, you do so at your own risk.
Types of Information We Collect
We collect "Non-Personal Information" and "Personal Information" and the information we collect from you depends on how you use the Services. "Non-Personal Information" includes information that cannot be used to personally identify you, such as anonymous usage data, general demographic information we may collect, referring/exit pages and URLs, platform types, preferences you submit, and preferences that are generated based on the data you submit and a number of clicks. "Personal Information" means data that allows someone to identify or contact you, including, for example, your name, address, telephone number, and email address, as well as any other non-public information about you that is associated with or linked to any of the foregoing data. The following provides examples of the type of information that we collect from you and how we use that information.
| Context | Types of Data | Primary purpose for collection and use of data |
| --- | --- | --- |
| Client information | We collect the name, username, and contact information, of our clients and their employees with whom we may interact. | We have a legitimate interest in contacting our clients and communicating with them concerning normal business administration such as projects, services, and billing. |
| Client user account information | We collect personal information from our clients when they create an account to access and use the Services. or request certain free Services from our Website. This information could include business contact information such as name, email address, IP address, geolocation, title, company information, industry, and password for our Services. | We have a legitimate interest in providing account-related functionalities to our users, monitoring account log-ins, and detecting potential fraudulent logins or account misuse. Additionally, we use this information to fulfill our contract to provide you with Services. |
| Client user account information | | |
| Client user account information | | |
| Client user account information | | |
| Client user account information | | |
| Client user account information | | |
| Client | | |
Information You Provide Us
We collect Personal Information from you such as your role/title, first and last name, e-mail, mailing address, phone, password when you choose to subscribe to our Services/ set up an account through the Services.
When you engage us to provide Services, our payment processor will collect all information necessary to complete the transaction, including your name, company name, credit card information, billing information, and direct deposit/ ACH information.
If you provide us feedback or contact us via email, we may collect your name, if stated, and email address, as well as any other content included in the email, in order to send you a reply.
When you participate in one of our surveys, we may collect additional information that you knowingly provide.
We will maintain the information you send via email in accordance with applicable federal law.
In compliance with the CAN-SPAM Act, all emails sent from our organization will clearly state who the email is from and provide clear information on how to contact the sender. In addition, all email messages will also contain concise information on how to remove yourself from our mailing list so that you receive no further e-mail communication from us.
If you connect your Gmail account to the BETA application, we collect your Gmail account address, IP address, and name to enable this functionality.
Information Collected via Technology
In an effort to improve the quality of the Services, we reserve the right to track information provided to us by your browser or by our software application when you view or use the Services, such as the website you came from (known as the "referring URL"), the type of browser you use, the device from which you connected to the Services, the time and date of access, and other information that does not personally identify you. We track this information using Cookies. Cookies are sent to a user's browser from our servers and are stored on the user's computer hard drive or mobile device. Sending a Cookie to a user's browser enables us to collect Non-Personal Information about that user and keep a record of the user's preferences when utilizing our Services, both on an individual and aggregate basis. Please review the Cookie Notice for more information.
We may also use third-party analytics services such as Google Analytics to collect information about how you use and interact with our Services. Such third-party analytics services may use Cookies to gather information such as the pages you visited, your IP address, a date/time stamp for your visit and which website referred you to the Website, SaaS or App.
We reserve the right to use technological equivalents of Cookies, including social media, beacons or pixels. These pixels allow social media sites to track visitors to outside websites so as to tailor advertising messages users see while visiting that social media website. We reserve the right to use these pixels in compliance with the policies of the various social media sites.
Some content or applications, including advertisements, on the Services are served by third-parties, including advertisers, ad networks and servers, content providers, and application providers. These third-parties may use Cookies alone or in conjunction with web beacons or other tracking technologies to collect information about you when you use our Services. The information they collect may be associated with your personal information or they may collect information, including personal information, about your online activities over time and across different websites and other online services. They may use this information to provide you with interest-based (behavioral) advertising or other targeted content. We do not control these third-parties' tracking technologies or how they may be used and we are not liable for any third-party providers, acts or omissions. If you have any questions about an advertisement or other targeted content, you should contact the third-party provider directly.
Use and Processing of Personal Information
In addition to the purposes and uses described above, we use information in the following ways:
To identify you when you visit our Website or App.
To create your account on the Website, SaaS and/or App and maintain your relationship with us (providing you with requested information and communicating with you)
To provide our Services including to send you records of our relationship, including for purchases and other requests.
To improve our Services and offerings including test Services and test changes in our Services and to develop new products or features.
To manage the security of our Website and Services, including support systems.
To conduct analytics for example to create and review data about our users and how they utilize our Services.
To record details about transactions with our Services involving electronic signatures (e.g. who initiated, viewed, or signed documents; signer's IP addresses; timestamps)
To respond to inquiries related to support, employment opportunities, or other requests.
To send marketing and promotional materials including information relating to our products, services, sales, or promotions, or those of our business partners.
To provide you with and collect payment for the Services and products requested
To comply with legal obligation, including legal retention periods
To defend or exercise our rights in legal claims
Although the sections above describe our primary purpose in collecting your information, in many situations we have more than one purpose. For example, if you sign up for Services, we may collect your information to complete that transaction, but we also collect your information as we have a legitimate interest in maintaining your information after your transaction is complete so that we can quickly and easily respond to any questions about your Services. As a result, our collection and processing of your information is based in different contexts upon your consent, our need to perform a contract, our obligations under law, and/or our legitimate interest in conducting our business.
Use of Non-Personal Information
In general, we use non-personal information to help us improve the Services and customize the user experience. We also aggregate non-personal information in order to track trends and analyze use patterns on the Services. This Privacy Notice does not limit in any way our use or disclosure of non-personal information and we reserve the right to use and disclose such non-personal information to our partners, advertisers and other third parties at our discretion.
Sharing of Your Personal Information
In addition to the specific situations discussed elsewhere in this policy, we may share personal information in the following situations:
Affiliates and acquisitions. We may share information with our corporate affiliates (e.g., parent company, sister companies, subsidiaries, joint ventures, or other companies under common control). If another company acquires, or plans to acquire, our company, business, or our assets, we will also share information with that company, including at the negotiation stage.
Other disclosures with your consent. We may ask if you would like us to share your information with other unaffiliated third parties who are not described elsewhere in this policy.
Other disclosures without your consent. We may disclose information in response to subpoenas, warrants, or court orders, or in connection with any legal process, or to comply with relevant laws. We may also share your information in order to establish or exercise our rights, to defend against a legal claim, to investigate, prevent, or take action regarding possible illegal activities, suspected fraud, safety of person or property, or a violation of our policies, or to comply with your request for the shipment of products to or the provision of services by a third-party intermediary.
Public. Some of our websites may provide the opportunity to post comments, or reviews, in a public forum. If you decide to submit information on these pages, that information may be publicly available.
Service providers. We share your information with service providers. Among other things service providers help us to administer our website, send e-mail communications, conduct surveys, provide technical support, detect fraud, process payments, and assist in the fulfillment of orders. Our service providers will be given access to your personal information as is reasonably necessary to provide the Website and related Services. Our service providers are contractually obligated to use your personal information only at our direction and in accordance with our Privacy Notice; to handle your personal information in confidence; and to not disclose your personal information to unauthorized third parties. Service providers who violate these obligations are subject to appropriate discipline including, but not limited to, termination as a service provider.
Except as otherwise stated in this Privacy Notice, we do not sell, trade, rent or otherwise share for marketing purposes your personal information with third-parties without your consent.
Retention of Your Personal Information
The length of time for which we retain personal information depends on the purposes for which we collected and use it and/or as required to comply with applicable laws. We keep your personal information for no longer than necessary for the purposes for which it was collected and/or processed. Where there are technical limitations that prevent deletion or anonymization, we safeguard personal information and limit active use of it.
See the Section "Your choices" about storage of your personal information.
How We Protect Your Personal Information
We implement security measures designed to protect your personal information from unauthorized access. We apply these tools based on the sensitivity of the personal information we collect, use, and store, and the current state of technology. We protect your personal information through technical and organizational security measures to minimize risks associated with data loss, misuse, unauthorized access, and unauthorize disclosure and alteration. We periodically review our information collection, storage and processing practices, including technical and organizational measures, to guard against unauthorized access to systems. Any account you have on our Website, SaaS or App is protected by your account password and we urge you to take steps to keep your personal information safe by not disclosing your password and by logging out of your account after each use.
Because the internet is not a completely secure environment, BETA cannot warrant the security of any information you transmit to BETA or guarantee that information on the Website may not be accessed, disclosed, altered and/or destroyed by breach of any of our physical, technical and/or managerial safeguards. In addition, while we take reasonable measure to ensure that service providers keep your information confidential and secure, such service provider's practices are ultimately beyond our control.
We are not responsible for the functionality, privacy and/or security measures of any other organization. By using our Website, you acknowledge that you understand and agree to assume these risks. You may ask for a list of technical and organizational measures taken to protect your personal data by e-mailing us at: privacyteam@chalk-technologies.com.
Your Choices
You may take the below actions to change or limit the collection or use of your Personal Information.
Promotional/Marketing emails. You may choose to provide us with your email address for the purpose of allowing us to send free newsletters, surveys, offers, and other promotional/marketing materials to you, as well as targeted offers from third parties. You can stop receiving promotional/marketing emails by following the unsubscribe instructions in e-mails that you receive and also adjust your email preferences here:. Email Preferences as well as your communication preferences here:
Communication Preferences. If you decline to receive promotional and/or marketing emails, we may still send you transactional and service-related messages.
Device and usage information. If you do not want us to see your device location, you can turn off location sharing on your device, change your device privacy settings, or decline to share location on your browser.
Deletion Of Your Personal Information. Typically, we retain your personal information for the period necessary to fulfill the purposes outlined in this Privacy Notice, unless a longer retention period is required or permitted by law, or as otherwise described in this Privacy Notice. You may, however, request information about how long we keep a specific type of information, or request that we delete your personal information by contacting us at the address below. If required by law we will grant a request to delete information, but you should note that in many situations we must keep your personal information to comply with our legal obligations, resolve disputes, enforce our agreements, or for another one of our business purposes.
Deleting your In-App account. If you decide to delete your in-App account, you may do so by selecting "Delete Account" on your profile page. Deleting your BETA account in-App will:
Sign you out immediately
Remove or anonymize any identifiable user information
International Data Transfers
Our company operates globally and has a global infrastructure. We utilize cloud computing which means your personal data may be transferred to a country with data protection laws not as strong as where you reside. We will transfer your Personal Data to countries deemed having adequate levels of data protection as determined by the European Commission.
If we share your personal information with entities located in the United States or other non-EEA jurisdictions which, according to the European Commission and the Court of Justice of the European Union through its Schrems II decision, do not offer an adequate level of protection to personal information, the GDPR authorizes other solutions to address lawful cross-border transfers. BETA may rely on data processing agreements (DPAs) with attached standard contractual clauses (SCCs) approved by the European Commission or other appropriate solutions to address cross-border transfers as required or permitted by Articles 46 and 49 of the GDPR. Where required by such laws, you may request a copy of the suitable mechanisms we have in place by contacting us.
EU Privacy Rights
If you reside in the European Union ("EU") or the European Economic Area ("EEA"), the European Union General Data Protection Regulation ("GDPR") will apply to how we collect and process your personal information. If you reside in the United Kingdom, the United Kingdom General Data Protection Regulation ("UK GDPR") will apply to how we collect and process your personal information. Under the GDPR and UK GDPR, EU and UK residents have certain rights with respect to their personal information. You can make the following choices regarding your personal information:
Access to your personal information. You may request access to your personal information by contacting us at the address described below. If required by law, upon request, we will grant you reasonable access to the personal information that we have about you. We will provide this information in a portable format if required.
Changes to your personal information. We rely on you to update and correct your personal information. Our website(s) allow you to modify or delete your account profile. If our Website or App does not permit you to update or correct certain information, you may contact us at the address described below in order to request that your information by modified. Note that we may keep historical information in our backup files as permitted by law.
Objections/Restriction to your personal information. You have the right to object to how personal data is processed in relation to public interest/official authority and our legitimate interests as well as direct marketing purposes – including profiling under both. You also have the right to request that processing of your personal information be restricted where its accuracy or lawfulness is contested, you need it in response to legal claims or in relation to verification as to whether legitimate interests for processing exist (resulting from objection made under Art 21(1).
Deletion of your personal information. Typically, we retain your personal information for the period necessary to fulfill the purposes outlined in this notice, unless a longer retention period is required or permitted by law. Where certain grounds apply, the law authorizes you to make a request that your personal information be deleted and triggers our corresponding obligation to comply, unless exceptions apply.
Move, copy or export personal data. This is known as the Right of Portability. You have the right to request that your personal data be forwarded to a third party.
Provision/Revocation of Consent. You have the right to provide or decline consent to the processing of personal information. If you've already provided consent, you also have the right to revoke it. This will not impact the legality of processing prior to revocation. If you revoke your consent for the processing of personal information, then we may no longer be able to provide you with services. In some cases, we may deny your request to revoke consent if the law permits or requires us to do so – such as when we are unable to adequately verify your identity. You may revoke consent to processing (where such processing is based upon consent) by contacting us at the address described below.
Complaints
We are committed to resolving valid complaints about your privacy and our collection or use of your personal information. For questions or complaints regarding our data use practices or this Privacy Notice, please contact us as provided below. Should you remain unsatisfied with our response to your complaint, you have the right to contact your local data protection authority.
Please note that your rights are not absolute, meaning that in some circumstances, exceptions exist under applicable law. The law may provide exemptions from requests involving your personal data. For example, in order to provide our Services to you, deleting your personal information may prevent you from accessing or using it.
You may exercise these rights by contacting us at privacyteam@chalk-technologies.com. We will respond to any such request in a timely manner as specified by the GDPR. If we need more time to fulfill your request, we will let you know in advance. We will not exceed the legally specified time limit under any circumstance.
Note that, as required by law, we will require you to prove your identity. We may verify your identity by phone call or email. Depending on your request, we will ask for information such as your name or other account information. We may also ask you to provide a signed declaration confirming your identity. Following a request, we will use reasonable efforts to supply, correct or delete personal information about you in our files.
In some circumstances, you may designate an authorized agent to submit requests to exercise certain privacy rights on your behalf. We will require verification that you provided the authorized agent permission to make a request on your behalf. You must provide us with a copy of the signed permission you have given to the authorized agent to submit the request on your behalf and verify your own identity directly with us. If you are an authorized agent submitting a request on behalf of an individual you must attach a copy of the following information to the request:
A completed, signed Authorized Agent Designation form indicating that you have the authorization to act on the consumer's behalf.
If we do not receive the information, the request will be denied.
Children and Minors
BETA does not knowingly collect personal data from children under the age of thirteen (13). Our collection of minor's personal data from is based on the consent of a parent e.g. by sending a notification to a parent or guardian. The age until which someone is considered to be a child differs depending on where they live, but is between 13 and 16 years old.
If we learn that we have collected Personal Information without the consent of a parent from a child under age thirteen (13), we will delete such information as quickly as possible. If you believe that a child under the age of thirteen (13) may have provided us Personal Information without consent from their parent/guardian, please contact us at: privacyteam@chalk-technologies.com.
By using the Services, you represent that you are at least eighteen (18) years old and understand that you must be at least eighteen (18) years old in order to create an account and/or purchase the goods and/or services through the Website.
Accessibility
If you are visually impaired, you may access this notice through your device's audio reader.
Changes to our Privacy Notice
In general, changes will be made to this Privacy Notice to address new or modified laws and/or new or modified business procedures. However, we may update this Privacy Notice at any time, with or without advance notice, so please review it periodically. We may provide you additional forms of notice of modifications and/or updates as appropriate under the circumstances. Your continued use of the Website after any modification to this Privacy Notice will constitute your acceptance of such modifications and/or updates. You can determine when this Privacy Notice was last revised by referring to the date it was last "Updated" above.
Contacting us
For questions or complaints regarding our use of your personal information or Privacy Notice or to forward deletion requests, please contact us at: privacyteam@chalk-technologies.com